Harry Joseph Letterman is the celebrity kid of the most famous television host, David Letterman. He is the only child of David Letterman and Regina Lasko.
David Letterman is an American T.V host, Comedian, Scriptwriter, and producer. His famous shows include Late Night with David Letterman on NBC and Late Show with David Letterman on CBS. The show was ranked seventh on Tv Guide's 50 Greatest Tv Shows of All Time.
Harry Joseph Letterman's Personal Life
Harry Joseph Letterman was born on 3 November 2003 in North Salem, New York. His father was a famous comedian and tv show host. People loved to watch his shows. Harry Joseph Letterman's mother, Regina Lasko is well known for her work in Another World and Late Night with David Letterman working as a production manager. Harry is the only child in their lives.
Harry Letterman is likely to secure a place in college to obtain a degree. He has just turned 18 this November. When Harry Letterman was born, his parents were not married but they made their relationship official on 19 March 2009.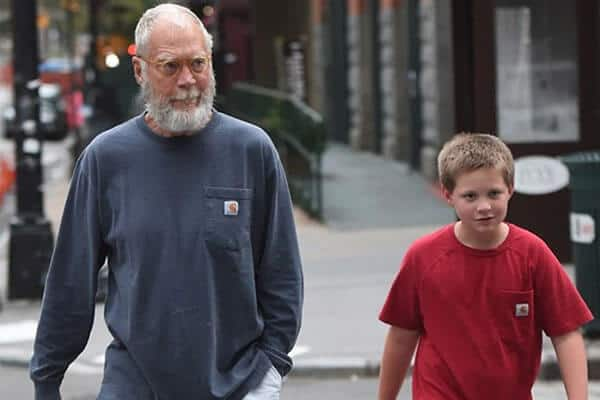 Who Kidnapped Harry Letterman?
When Harry Letterman was 16 months old, a tragic event happened in his life that made his glamorous celebrity life change into his life victim of fame.
Kelly A. Frank was a painter working at Letterman's house which spread about 2,700 on Rocky Mountain Front. Kelly Frank was around 43 years old when he planned to kidnap Harry Joseph Joseph with the help of a nanny so that she could take care of him while he was kidnapped.
Some sources also said that Kelly Frank had the keys to David's house and that he was planning to take the baby while he was asleep. Eventually, Kelly Frank was caught with the help of law enforcement and David took help to find the culprit. It is also reported that he was plotting to ask for $5 million as a ransom for the little boy.
The pitch: Dave's got questions, they've got answers. Four more episodes of #MyNextGuest are now streaming on @Netflix. @KimKardashian @RobertDowneyJr @lizzo #DaveChappelle pic.twitter.com/kOy5QUdUKV

— David Letterman (@Letterman) October 21, 2020
Kelly Frank was sentenced to prison in Pondera Country for 10 years on $600,000 bail which he escaped in 2007. At that time, Kelly did not have any lawyer who could represent him in court. In 1999, Kelly was also in charge of holding his girlfriend's hand against her will. Not only Kelly but also a woman who claimed to be Mrs.
David Letterman broke into David's house several times in Connecticut. She was found guilty and sent to prison. On October 5, 1998, she committed suicide by kneeling on the tracks of the oncoming train.
The Net Worth of Harry Joseph Letterman 
Harry Joseph Letterman has turned 18 this year. Currently, he is studying and gaining experience in the field. He is not involved in any kind of profession and studying hard to shape a career like his father. David Letterman's total Net Worth of $400 million in 2023. He has a 2700-acre ranch near Chateau, Montana, and a house in St.Barths. He is also a car lover.
Harry Letterman Physical Appearance 
Harry Letterman has beautiful blonde hair. His brown eyes look attractive and suit him. Although he hasn't revealed his height and measurements we can tell that he has an average height. He looks charming and smart just like his father. He has also maintained his fitness with a weight of around 65 kg.
Social Life of Harry Letterman 
Harry Joseph Letterman does not have any social media accounts on Instagram, Facebook, and Twitter. Although he is a celebrity kid he still chooses to live a low-key life. David Letterman has an Instagram account where he likes to share new ideas and pictures. Harry is single and is not dating anyone right now. He is trying to study hard and make a good career.
How old is David Letterman Son, Harry Joseph Letterman?
Harry Joseph Letterman was born on 3 November 2003 to his parents Regina Lasko and David Letterman. Therefore as of 2023, he is 19 years old. He'll be 20 this year on the 3rd of November.
Is David Letterman still married to Regina Lasko?
Through the years, they have endured salacious rumors, blackmail, and even a kidnapping plot. Here's a look inside David Letterman's 37-year long relationship with his wife, Regina Lasko. Updated on July 22, 2022: Since the original posting of this article, David and Regina's marriage is still going strong
Stay connected with Herald Journalism for the latest updates.
As a seasoned entertainment blog writer based in the India, I bring a wealth of creativity and expertise to every project. With a passion for pop culture and a knack for crafting engaging content, I'm your go-to professional for captivating articles that keep your readers coming back for more. Let's collaborate to elevate your entertainment blog to new heights!