Sword Art Online (SAO) is one of the most terrific and amazing Sci-Fi Anime shows in the world n/ recent times. Better known as Sōdo Āto Onrain, SAO has received ratings of 7.6/10 on IMDb, 100% on Rotten Tomatoes, and 7.8/10 on Rating Graph. These ratings are still a dream for many showrunners.
Sword Art Online: Basic Info
For those who are not much into Anime series, SAO is TV series which is a work of:
Amination by: A-1 Pictures
Directed by: Tomohito Iko
Music by: Yuki Kajiura
Global Streamers (2013 – English Dub): Hulu and Crunchyroll
SAO is an adaption of the t novel of the same cognomen. Reki Kawahara has written it, and ABEC has contributed to its illustration.
Sword Art Online Season 3 Details
SAO Season 3 is currently being aired. It consists of 47 episodes, starting from October 2018. SAO S3 is launched in three parts. The first cour aired 24 episodes, second aired 12 episodes, and 3rd is yet to be aired, which will constitute 11 episodes. It will start airing on April 25, 2020.
Season 3 is completely based on the Alicization arc of the volumes 9 to 18 of the light novel.
Sword Art Online Season 4 Chances
All episodes of Alicization are covered in entire season 3, which means Cradle of the Moon part of the light novel still has Seasons to consume, and producers are not running out of the material for Season 4.
This hints at a very high probability for Season 4 to come. However, there's no announcement yet by A-1 Pictures yet.
How's the story of Sword Art Online unique? 
Imagine you're in the 22nd or 23rd century (not exactly portrayed in SAO), living in a super-advanced technological world. You're a game addict, and you're told to play a Virtual Reality (VR) game, which has a condition that if you start playing the game, you'll have to compete and complete all levels before ending the game.
It has no PAUSE button or 'LEAVE THE GAME' option. If you die in the game, you will be dead in the real world too. Yes, that's the scariest part. Also, remember that the games in VR are MMORPGs (massively multiplayer online role-playing games).
That's the basis of this game. In SAO, more than ten thousand gamers got trapped in the game. The main story starts when Kazuto Kirigaya, having sobriquet 'Kirito,' joins the party in VR. Since Kirito is an experienced player and beta-tester of the game, he knows the drill better than others.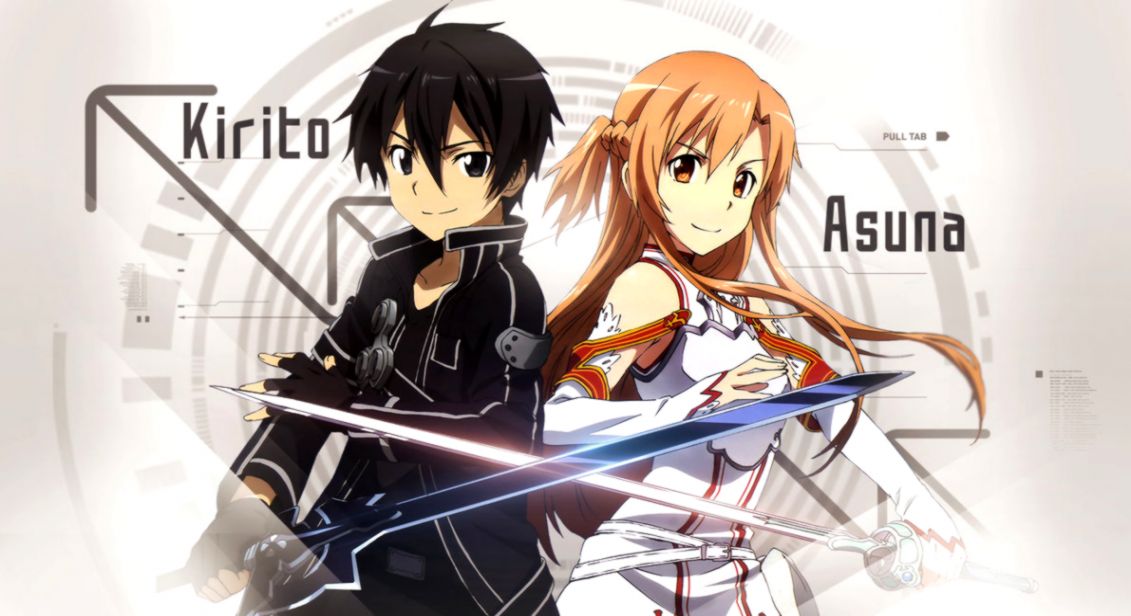 He makes alliances in the game and fights the enemies offered in the game. Later, Asuna Yuuki joins him as a partner, with whom he falls in love and marries. Both go on a mission in VR to complete and discover Kayaba's Secret ID and rescues 6147 players.
They further continue the mission and help other stuck players to complete their missions and exit the game altogether. Further episodes and seasons will be showcasing the amazing and daring adventures of Kirito and Asuna in the virtual world.
Why the name "Sword Art Online"?
You must be wondering why the name is 'Sword Art'? So, in the game, Kirito is a part of the guild named 'Moonlit Black Cats, ' which is killed by monsters, and he gets to be the lone survivor.
Thus, he keeps his identity as a secret. Further, he friends with a girl named Silica and assists her in reviving her pet, Pina. Later, he unlocks a unique skill upon which he meets a blacksmith named Lisbeth, who gifts him a hand-forged Sword.
During all further missions, Kirito uses this sword as the main weapon to fight against monsters. So, Sword Art: Kirito's weapon to fight monsters and win missions Online: It's all happening online in a VR game (VRMMORPG).
The story is getting intense and interesting, isn't it? Read the whole story on the wiki here.
Sword Art Online Season 4 Release Date
As of now, there's no date for next season. But, as there is no shortage of content, we're pretty sure that Season 4 is in the pipeline, and we'll soon hear a date from either A-1 Pictures or Production studio Aniplex.
Considering the schedule of season 3, which started in October 2018 (first-cour). The second cour was aired in October 2019 and third in April 2020.
If there's a Season 4 already made up, there's a high chance that we'll witness Season 4 in October 2020 or April 2021. For now, that's all we know about Season 4. We'll continue to update the section as and when there's any update heating up.