Katy keene is a 'The CW' produced new comic drama, which is lined up for debut approximately at the end of 2020. It is yet another spin-off of drama Riverdale, which fans would love to see as they are in different time periods.
It can be undoubtedly called a freshened, brightened, and modern version of Riverdale. Not many details are known about the show, but the production house has confirmed the release of 13 additional episodes, which marks the long run of the show soon.
Since there are extra 13 episodes ordered, to keep ahead of schedule, it is very likely we will witness its crossover with Riverdale. We will see more in detail in the later parts of the article.
Katy Keene's Cast
Created by Michael Grasse, the show will have a star cast of Lucy Hale, who will play as Katy Keen, a princess in the fairy tale. Ashleigh Murray will re-portray her character as Josie McCoy in NY city.
Jonny Beauchamp as Jorge/Ginger
Julia Chan as Pepper Smith
Camille Hyde as Alexandra Cabot
Zane Holtz as K.O. Kelly – Katy's boyfriend
Katy Keene's Plot & expectations from the debutant 
About Katy
Katy Keene is a show very different from Riverdale. Contrary to Riverdale having horror-type comic, it will be a breezy light, romantic comic, where four girls try to make their way up in their career, in the city of New York. It clearly qualifies as a modern-day fairy tale.
Katy works at a shopping department of Lucy's. She works here to sew different garments, including all full dresses, boucle gowns, wrap dresses, and amazing caps. She sews for customers, herself, and friends. At first, she is a happy-go-lucky person who dedicates herself to the work as well as creating happy moments with pals and bae in her life.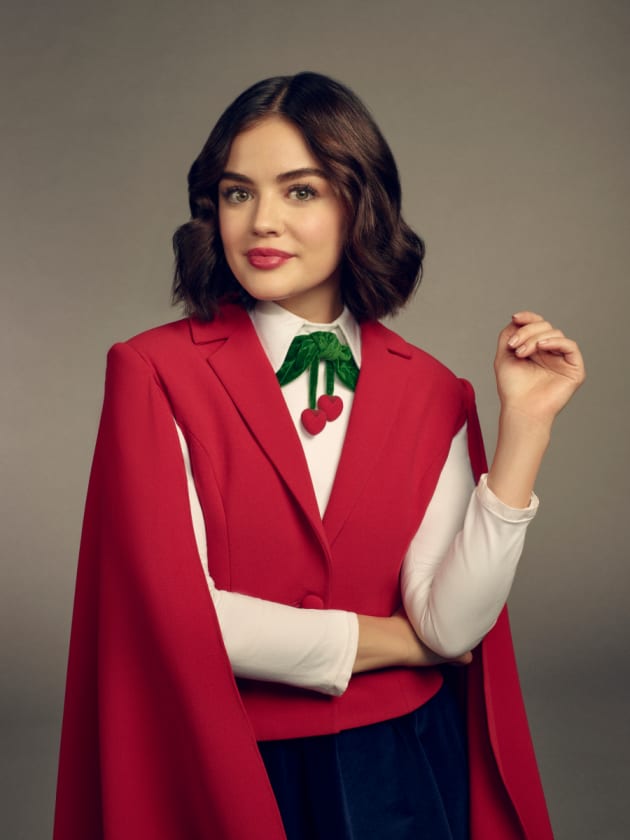 Katy's Professional Life
As life turns its back for everyone at some point, she receives some amount of jealousy from her coworker as well as her boss. Her boss tries to keep her at low position and authority as she is a threat to her because of her talents and skills. So, she prevents her at every step from moving forward by an act of manipulation.
Friends and Personal drama
Outside of Lucy's, she has roomies who are also aspiring artists in the music genre, and they all party together. Josie (adapted Riverdale character – Josie from pussycats group) joins her in NY and soon meets somebody to kick-off and speedup her musical career. Her other friend Pepper has some different career insights. Next pal is Jorge, a.k.a Ginger, who drags himself in his drag career and tries to take it to the next level. Katy also has a sweetheart boyfriend, K.O. Kelly, who works as a bouncer at the place where all pals go party.
Katy Keene's story revolves around these characters in a happy, comic, and romantic tone, and songs are ready to come up at any moment in the episode. It perfectly suits as a fairy tale. They all are set on their path and struggle to be budding artists, musicians. But, everyone has to pay their part of the bad days & sunsets in life.
Katy Keene's Chances of crossover with Riverdale
Earlier, it was expected that Riverdale will have a crossover with Chilling Adventures of Sabrina (its another spin-off). But, now the creator has stated publically and officially that there will be a crossover with Katy Keene.
Roberto Aguirre-Sacasa said, "I will say that most likely, we will be doing a crossover, even though it breaks the space-time continuum, we probably will be doing a Katy Keene / Riverdale crossover."
An interesting fact is that Riverdale's adaption Josie moved to NY but still can't escape from her mom's care. There are chances that pussycats will also show up. However, creator Roberto said, "We definitely will be seeing the Pussycats, but probably not in the way you expect."
It will be interesting to see how time frames are matched. Riverdale is an old-time classic comedy while Katy Keene is years ahead. The blending of 2 shows for some time will reveal some interesting facts. For example, who will be what and wherein Riverdale, especially those. Who all are together after years of graduation.
Katy Keene's Debut Release
There is no official date as of now. But, we are expecting an announcement from 'CW Tv' soon. Since the screen is fully occupied as of now, it will likely replace one of the Wednesday soaps.