Netflix has renewed the science-fiction drama 'Another Life' Season 2. Although, the drama wasn't a big hit and had mixed responses from critiques and fans, yet luck favored the show.
Another Life sci-fi drama is a creation of Navy Productions and Hellfire Entertainment, and Aaron Martin is the executive.
https://www.youtube.com/watch?v=VBoaPqiqnpA
Another Life's latest information
It's Season 1 was started in 2018 and got filmed in Vancouver, British Columbia. Netflix aired the show in 4K on July 25, 2019. It wasn't very much liked by everyone as there could be many improvements in terms of binding the story together at all points.
Katee Sackhoff is the main cast as well as the co-producer of the series. During her interview with Collider, she said that the series has a definite potential for at least 3 seasons. "So, we know where the show potentially will go for the first three seasons. As an actor, that was new for me. To really be a part of those conversations and to have an opinion was really cool."
She also told, "I love this character, and I love the cast and the crew, and I want to do everything in my power to see it come back, for many years."
Another Life Series Plot
Show starts with the landing of a Moebius shaped object on Earth and growth of its shell. Erik, an interstellar commander, fails to get in touch with the aliens. Captain Niko takes charge and leads the spaceship Salvare to unlock the mystery along with her team. During the tour, the team realizes the perilous journey and learns that this could be a one-way journey only.
Harper Glass (media person) informs people of Earth about "Achaia," i.e., the aliens and initially seem to be friendly and willing to shake the hand of friendship. But evidence shows that they had earlier killed the inhabitants of another planet, "Zakir." Later the world was blown up by itself.
Another Life: Season 2 expected plot
In Season 2, we can expect the crew of Salvare to return to Earth, which seemed to be a one-way journey earlier. Once they're back, their task will be to save the planet from the evil intentions of Achaia and spread awareness among people about aliens, contrary to what was rumored by the media influencer Harper Glass.
Another Life's Cast
Astronaut Niko Breckinridge is portrayed by Katee Sackhoff, who is also the co-producer. Her husband character Erik Wallace, who is a commander to analyze intel. Blu Hunt plays August Catawnee.
In Season 2, most of the characters and their cast members are likely to be the same. Except for Ian (Salvare's Pilot) and the son of the U.S. Secretary of Defence, Sasha (Jake Abel), as they're already dead in Season 1.
As of today, there is no announcement about the cast, but we are certain that cast announcements will reach our ears very soon.
About the cast, Katee said, "What's so great about Niko is that the mission aligns with her heart, which is to protect her family, back home. She'll do anything to stay on mission and protect your family, including sacrificing some crew members."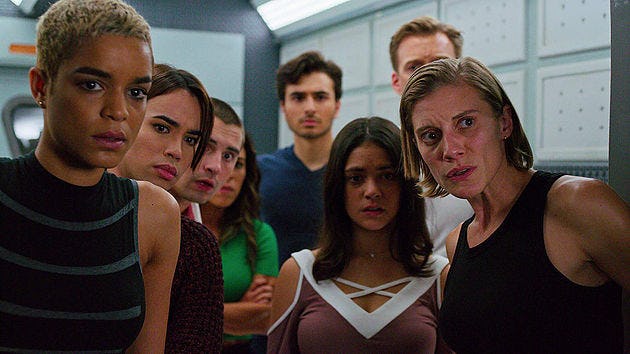 Another Life's Season 2 Renewal Date 
Another Life's Season 2 shooting to begin in 2020. None of the crew members or showrunner has revealed any date of the show release yet. But we can expect that shooting will consume approx 4 months, followed by editing and special effects. Mostly, this will drag the Season 2 release to the starting months of 2021. Although we can't be sure about this timeline, the show is worth waiting with the unfolding of many mysteries in the upcoming installment.